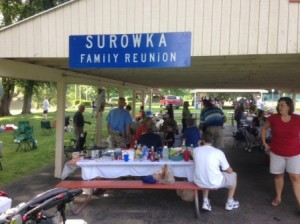 Middle age ushers in a number of changes and realizations.
Among them:  You're now the parents, the leaders in your immediate and extended family – the ones that the kids are looking up to.
You're old enough now that family responsibilities that used to fall on your mothers and fathers, and your aunts and uncles, now fall on you.
It's things like getting everyone together for Christmas or Thanksgiving.  Setting up family vacations, or getting in touch with everyone when someone gets seriously sick, has an accident or dies.
It can also be coordinating something fun, like the annual family reunion picnic.
For my mother's family, the annual summer picnic is a big deal.  Mom came from a family of 12 children. There are only two aunts left, Wanda and Helen, age 89 and 82, respectively. But with all the cousins and their children, you still have a big group of people. Keeping in touch with everyone in the family is no easy task.
The reunion takes care of that. Not everyone attends, but many do. It's the one time of the year when you can get updated on everyone's business – their successes, their heartbreaks. Most family members live locally, but a few travel each year from places like Florida, New England, even California.
When I was growing up, the Surowka Family Picnic used to be a one-day affair.  That changed over the years.   It currently includes a Saturday picnic with a family horseshoe tournament, followed by a golf match/dinner on Sunday. This year's picnic had over 50 attendees, and the golf match drew 16.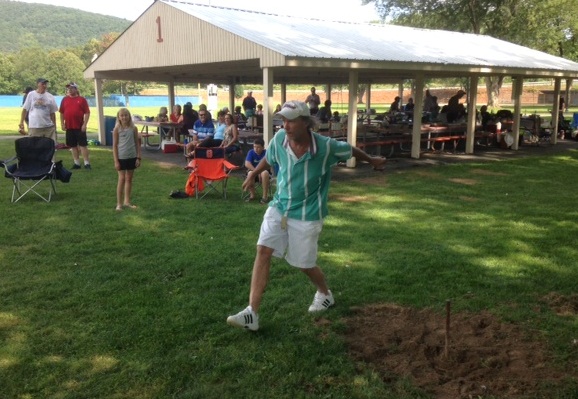 My cousin, Tom, runs the family's annual golf tournament and he's done it for years.
My father used to organize the horseshoe tournament at the picnic. Since Dad's death, the duty for running the competition has alternated between myself and my brother-in-law.  I handled it this past reunion.
This year's family gathering was particularly emotional for many of us.  Two brothers – my Uncle Stan and then my Uncle Jim  – died this past year.
While my mother's family is determined to stay in touch, by father's side is the exact opposite. My father also grew up in a large family. There were 10 kids. However, throughout the years no one took a leadership role and organized any annual reunions or get-togethers that I can remember.
The result?  I've lost touch with practically all of my aunts and uncles on that side of the family.  It's the same with most of my cousins. It seems like the only time I've seen them in recent years has been at funerals – if at all. It's sad.
Early on, it was my Aunt Jo and Aunt Rosie (my mother's sisters) who played the key roles in making the annual Surowka picnic happen each year.  Everyone brought their own food and drink and dish to pass.
About 20 years ago, my Uncle Jim, who retired from the gas company and was a confirmed bachelor who never left home, announced plans to move to Florida. With that announcement came another – that he would foot the bill for the family picnic. He also offered prize money for the golf tournament.
Initially, Jim had the gathering completely catered. In time, it morphed into Jim providing a $500 check. Different individuals took turns – including my stepmom, myself and eventually my cousins and their families — to purchase all the food, drink and paper products. The past few years, Jim's financial backing decreased as he just supplied the beer, soda and clams.
With Jim's death last year, this summer's gathering was the first family reunion weekend in two decades that Jim didn't play a role in.  Things reverted to the old days, when everyone brought their own meat, drink and snacks and a dish to pass – which was fine with everyone.
It was satisfying to see that the seeds that Aunt Jo and Rosie and Uncle Jim planted for all those years took root. Both days came and went without a hitch, and there were several new faces.  In addition, now my cousins' children are coming – and in some cases bringing their children. It was neat to see the little kids running around.
It's now on me, on my brother and sisters, and on my cousins to keep this reunion thing going.
The torch has been passed.