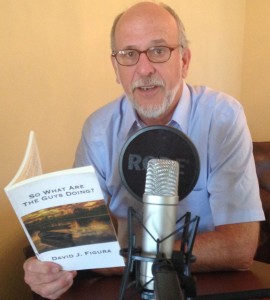 However, the experience of taping this summer for the audio-version of my book, "So What Are The Guys Doing?" was an enjoyable, re-affirming — and it some cases, painful experience. I read the entire book in about eight, two-hour sessions. The finished version is due out before Christmas.
It's a book about mid-life, specifically, what I went through (troubles with my marriage/considering an affair;  burned out on my newspaper career and feeling lonely because of my lack of friends),  and what I did to successfully deal with those issues.
In addition, the book contains comments and stories from 50 guys I interviewed between the ages of 40 and 60 on such subjects as loneliness, the importance of friends at this age, sex, the younger women thing, our bodies, faith – and the middle age bogeyman (fear of being laid off, fear of taking a risk in one's career at this time of life).
There's an art to reading. Beforehand, I listened to several audio books read by the authors and made mental notes of does and don'ts. I also took to heart more formal recommendations supplied by my publisher, Laura Ponticello
Knowing myself and the fact that I'm the sharpest in the morning, I agreed to a schedule that had me at the microphone at 7 a.m. I also discovered for some reason my voice sound better if I'm standing up, reading from a podium, as opposed to sitting down.
This was not a just roll-out-of-bed and start reading sort of thing. I had to make sure I got a good night's rest the day before and religiously popped a Claritin before hitting the sack to make sure I didn't wake up all stuffy due to allergies.
I set my alarm clock for 6:25 a.m., had a cup of coffee and sometimes a piece of toast or a bagel. No milk. That would cause phlegm and affect the sound of my voice.
Upon arriving at Laura's house, where she had set up a small recording area, and a sound engineer running things, I'd have another cup of coffee. I'd then warm my voice up, do a quick sound check – and then start reading.
There's all sorts of things to consider when reading and I quickly learned if I read the passages beforehand a couple of times it helped. There are things like the consistent tone of your voice, pausing at the right places, emphasizing certain expressions or endings to chapters. I also struggled with the idea of how I would make my voice sound when I read quotes from other guys I interviewed.
I went back and forth on this and finally decided to read all the comments with a consistent tone in my voice.
As for mistakes and flubs, I was instructed to stop immediately when I screwed up, pause – and reread the sentence again. That will help make for easy editing of the final product, I was told.
It's no surprise to anyone that has already read my book that I poured a lot of emotion and honesty into it. Also, that when I started working on it I was not in a very good place on several fronts – my marriage, my job, my lack of friends. Several times during the readings, I choked up and had to take a break to compose myself.
But as I continued, it was reaffirming to me that, yes, I am truly in a much better place today because of all I went through. The experience has strengthened my relationship to my wife, Laura. It's given me a host of supportive, caring and fun male friends that have made my life so much more balanced and happier. Finally, it made me think about how the past few years at work have just flown by since becoming the outdoors writer at The Post-Standard/syracuse.com, a job I truly love.