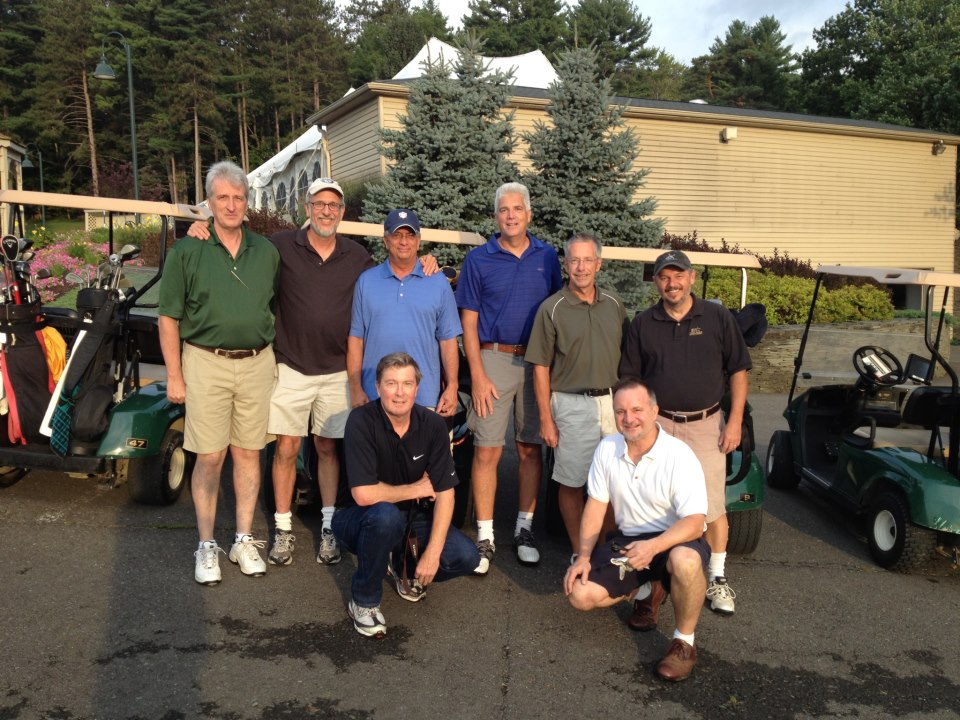 I'm glad I went to my 40th high school reunion last weekend.
The weekend kicked off Saturday morning with pleasurable round of golf with seven high school buddies.  It ended Sunday with a clambake, during which I grabbed a guitar and teamed up with three other classmates (a guitarist, a banjo and a mandolin player) to perform a few songs in front of everyone.
My golf and guitar playing were lacking. I didn't get a single par while golfing, and my guitar playing was rusty and ragged. (In hindsight, the decision to play Bob Dylan's "Knocking on Heaven's Door" probably wasn't a good choice of songs.)  It didn't matter. I enjoyed myself.
For me, this reunion seemed different than the 20th and 30th get-togethers.
This one was arranged by classmates from afar and it was apparent that a large number of classmates who still lived in the area were noticeably absent. I'm not sure what that was all about.
Unlike past reunions, there seemed to be a decrease in the sense of competitiveness, of comparing yourself with others. It was more about connecting.
As you can imagine, there were a lot of discussions that began with the questions… "What ever happened to…?" or "Did you hear about….?" However, we've all been down this long road of life the past 40 years. Many of the exchanges I had with classmates concentrated on how we've fared along the way.
Issues many are grappling with include:
– Dealing with aging parents. Some have already been through the hassles and demands of grappling with nursing homes, having their parents move in with them – or dealing with their parents' homes following their deaths. Others (like myself) are just getting started on that scene.
– Dealing with our own health. Many of us have decaying knees and bad backs, and continue to fight the good fight in the battle of the belly bulge. I did notice a couple of hearing aids. I talked to one classmate who's unfortunately dealing with multiple sclerosis and had to retire early.
– Dealing with retirement – or not. For some of us (like me) retirement seems a long way off, elusive. For others, specifically the classmates who've worked in the public sector (teachers, state workers, etc.) they've either  cashed in their chips already, or are aiming  to begin retirement soon with a pension and benefits. I can't  imagine being retired at 58.
– Dealing with death of friends and spouses. Understandably, there were more of these type of discussions this time around. For some – including those who missed the 30th gathering – this was a jarring update of who had passed on, and how they died.  A list of 15 who had reportedly died since graduation was read at the clambake and a moment of silence was observed. I had a chat with one female classmate whose husband had died some six years ago.
– Dealing with divorce, being an empty nester and second (and even third) marriages. We've all experienced twists and turns with our relationships. Two of my golfing buddies recently celebrated their 30th and 31th wedding anniversaries. It was interesting to hear from them,  and from others about how their adult children were faring.
Others are on their second or third marriages, or are unattached and out there on the middle age dating scene. One classmate told me how he has a 30-year-old son from a first marriage, and an 11-year son from his second. I can't imagine that. There's a lot of alternative universes out there.
As with every reunion, there were times when I drew complete blanks about classmates. Having a yearbook on hand didn't help. There were some folks that I just never interacted with during my high school days.
I talked to one attractive woman who I strained to remember. Several of my friends said she was always "real quiet." Once I sat down with her, she related how she didn't like high school and often skipped class — spending time partying and skinny dipping, among other things. (Where the hell was I when all that was all going on?)
Initially, there was a list of 13 deceased classmates to be remembered during our moment of silence at the clambake. Two more names were brought up by individuals who stood up from the crowd.
I know death isn't funny, but what happened at the clambake was. Near the end of the gathering, Jay, the classmate who's a minister and who led the initial moment of silence, made an announcement about one of the names read.
"I've just been informed that David S….isn't dead," he said.
I'm not sure how Jay found that out, but it did generate some humorous comments afterward from my friends.
Hopefully, David is doing OK and  he'll be at the next class reunion. I'd like to buy him a beer.
It's not everyone who comes back from the grave.