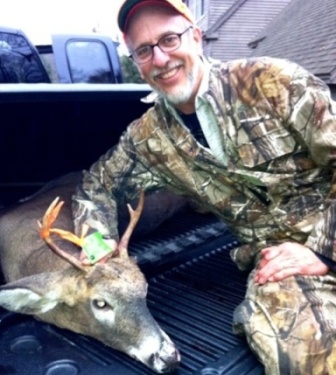 A psychologist once told me that if you want to see a grown man cry get him talking about his father.
I cried last weekend. I was just overwhelmed with emotion. Dad's been dead for more than two years, but I felt he was with me, right by my side.
After four years of trying, I shot my first deer — a four-point buck. And I did it with Dad's 12-gauge, Ithaca Deerslayer.
I've been the outdoors editor at the local newspaper for the past six years. When I was hired, I told my bosses that I was weak in the area of hunting, but that I was eager and willing to become proficient in it.
During my interview for the job, one editor asked if I harbored any anti-hunting views.
No, I said, my Dad was a die-hard hunter – shooting everything from rabbits, to pheasants to deer. I grew up eating wild game and occasionally assisted Dad as he  cut up dead deer hanging in our garage.  In fact, when Dad was out of work for 12 months during my junior year in high school we ate venison, prepared every which way, until it was coming out of our ears.
But there was one catch to all this.
Dad often took me fishing, making me the fishing nut I am today. However, he never once took me hunting. The irony, of course, is that today I write about the outdoors, often covering hunting with passion and enthusiasm.
Three weeks before he died, I confronted him down at my stepbrother's place in West Virginia, where he and my stepmom were living. I have countless memories throughout my childhood of Dad hunting with my Uncle Jim and others. Why wasn't I ever asked to go?
Dad, 84, a bit embarrassed, said simply that he had tried taking my older brother, Paul, and that he didn't like it. Figuring I would react the same, he said, he never bothered.
The conversation was brief, but it ended with a promise. "Come down here next fall and we'll go out. We'll get you a deer," he said.
He died of a massive heart attack three weeks later.
Following his funeral service, just I was getting ready to drive back to New York, my stepbrother, Larry, walked up to me carrying a gun case. It contained Dad's 12-gauge, shotgun.
"Your father got a lot of deer with this gun. He wanted you to have it," Larry said.
When I got home, I stuffed the gun case underneath our bed and didn't open it. When I finally did, I broke down.
Every hunting outing afterward, I lovingly carried Dad's gun into the woods. I had another gun, but this was the one I was determined to use to get my first deer.
It's taken me awhile, but I finally pushed aside my resentment and hard feelings about never having gone hunting with my Dad. I concluded it wasn't all his fault. I was a busy teenager, with sports, friends and a girlfriend. I never once asked him if I could tag along.
Obviously, hunting was his time away from the family and his job with the Telephone Co. It was time with my Uncle Jim and other male buddies to replenish and recharge his soul.
So there I was last Saturday — sitting on the ground, leaning up against a fallen tree trunk, holding my father's gun. A doe had just come by about 20 minutes before. I had the perfect shot, but I lacked a doe tag for the area we were hunting. I let it pass.
I was reconciled that I was experiencing just another great day in the woods when a 4-point buck came walking up from behind, and crossed about 25-30 yards in front of me. I know it sounds corny, but it was like Dad was helping out – somehow leading that deer to me.
I felt his presence.
"There's your deer, son, " he whispered in my ear.
I quickly propped the gun on my knees and fired. It was a perfect shot and the deer when down.
I was in shock for about 15 to 20 minutes. My best friend, Chris, and his friend, Randy —  the two guys I was hunting with — arrived to check it out. With their supervision, I field dressed it myself.
But not before I stepped aside and sobbed.
"I got him, Dad. Thanks," I said quietly, my eyes full of tears.